My coworker stared at me with horror: "I can't believe you're still using those plates!" I half shrugged as I took the paper plate in question out of the microwave. My stoneware bowl was at home and I had forgotten my lunch. The only food available was the frozen broccoli I had left at work the other day.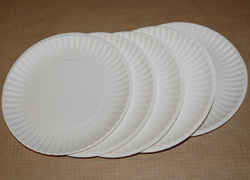 Thus my choice was to use the paper plates provided at the office, eat my broccoli straight from the freezer, or go without lunch. I was not up for munching on frozen broccoli or going for 5 more hours without food, so I turned back to the evil paper plate.
My coworker was appalled because she had read all of the studies on these particular plates and had previously warned me that it was better to use a plastic storage container to reheat food than to risk the carcinogens and reproductive toxins found in these innocuous-looking plates.
I sincerely appreciated my coworker's concern, but on this particular day the risk of going without food outweighed my concern about the potentially toxic plates. I try to be reasonably smart about how I treat my body, but it is impossible to truly protect myself. So I seek balance. And "balance" means that every day I knowingly take risks. I expose myself to danger and potential poison in order to live.
I share in a friend's birthday cake without inquiring about the types of fats used to make it. I drive to the grocery store despite the very real chance of getting in a car accident. I use a cellphone. I take so many risks it is difficult to even think of them: just about everything I do is risky.
And yet, refusing to do what I need to do because I fear risk would be the riskiest option of all.
I have previously posted about why "erring on the side of caution" simply does not make sense to me. And it continues to bother me that so many urge "better safe than sorry!" when their version of "safe" is far, far more dangerous than the particular action which they warn against!
How do you deal with risk, particularly in the area of life and health? Would you have used the paper plate? Gone without lunch? Always been perfect and never left your reusable bowl at home? Done something I haven't thought of? Do share!